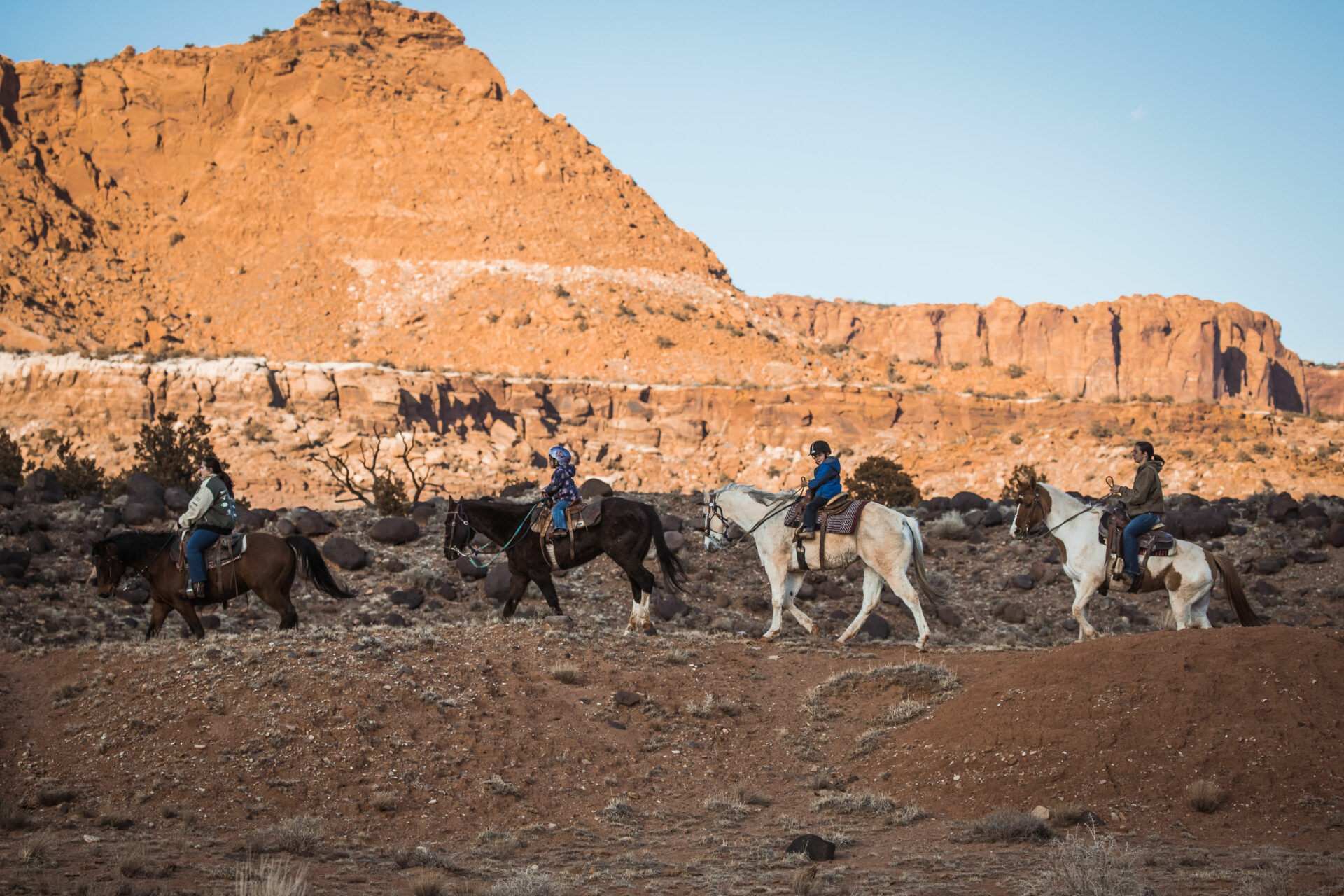 Inn Based Adventure Tours
All-inclusive tour • Lake Hike & fishing • Kayaking • Llama assisted hike – Horseback Riding
Type: Inn-Based Adventure Tour
Area: Capitol Reef National Park & Fish Lake National Forest
Duration: 4 days (5-day option as well)
Difficulty: Level 3 (moderate)
Highlights: Llama Assisted Lake Hike, Horseback Riding, Iconic Canyon Country Views, Fishing and Lake Kayaking
Location: Torrey, UT
Price Per Person: $3,398.00
Season: March 1 - November 15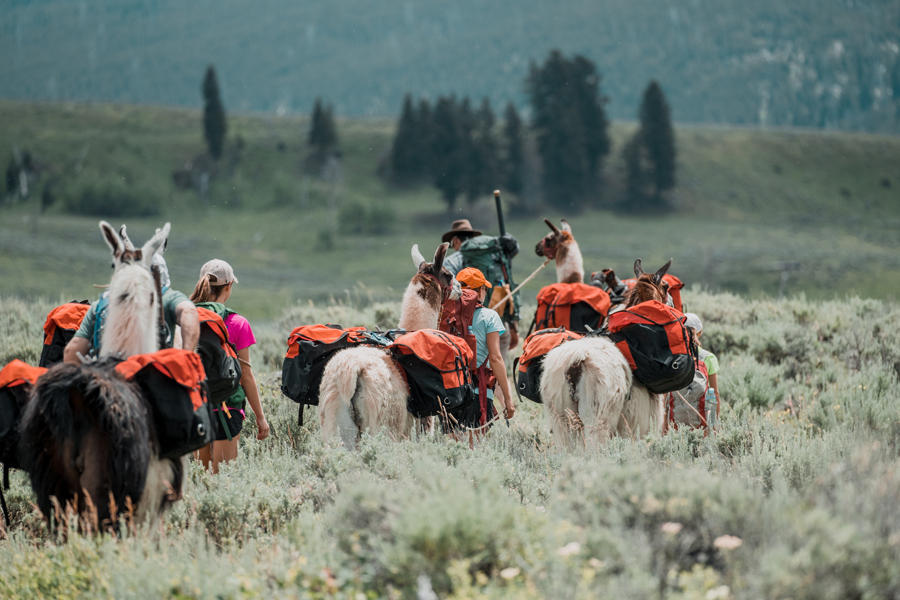 On our Inn-based adventure you can focus 100% on the best hikes, scenery, food, and experiences Utah has to offer while we take care of everything else.
Utah is one of the most overlooked places in the west! There is unmatched beauty just waiting to be explored. The diversity you will get to experience will be unlike any other trip! There are options to go horseback riding in the red rock desert with views of Capitol Reef National Park, hiking with our pack llamas up to an alpine lake on Boulder Mountain, hike in and learn about Capital Reef National Park, explore some of Utah's best slot canyons, and more. Avoid the crowds and let one of our world class guides take you on an adventure that you will remember for the rest of your life!
Food, lodging, and transportation are all provided so all you have to do is enjoy Utah! You will be staying at Capital Reef Resort where you will have a room with amazing views and access to the pool and hot tub to relax after our days exploring. Not only will we eat at some excellent local restaurants, our guides will prepare you some delicious gourmet meals served in our traditional western wall tents with wood floors.
This trip is all inclusive. Your room at the resort is included, all meals, restaurant tipping, and transportation once in Torrey Utah is all included. Feel free to tip your guides, llamas, and horses at the end of the trip.

Please Note: We will do our very best to stick to our planned itinerary. Our goal is to keep everyone safe. Sometimes the itinerary may change in a moment's notice due to temporary closers, access restrictions, lodging, natural causes such as fire, flooding, weather impacts etc.
Transportation and Shuttle Note
Each traveler can meet us at Capitol Reef Resort in Torrey Utah or we can pick you up at Salt Lake City Airport a day before the trip and shuttle you and your party to Capitol Reef Resort.
We also can shuttle you back to Salt Lake City Utah to the airport after our last day of the trip.
**This shuttle service to and from SLC airport is included in your trip package**.
Daily Itinerary /Schedule
Day 1: The Red Rock Mesas & Petrified Forest
Today begins our journey together In Torrey Utah. We will meet you at the Capitol Reef Resort Lobby. We will take a short jaunt to our private llama corrals where our guides will prepare an amazing breakfast with all your favorites! From there we will head out on a hike where our guests get exclusive access to the western escarpment of the Water Pocket Fold of Capitol Reef National Park. This exclusive access means you'll have the entire place to yourself. Very few people get the opportunity to explore the headwaters of Sulphur Creek, Red Bluff Canyon, or the Amphitheater below Cooks Mesa and Meeks Mesa
Your guides will tailor your llama adventure based on your level of ability and interest. (On average, we walk or hike 1 - 2+ miles per hour). This means we could have a full day Llama Adventure, hike, explore, relax, take photos, eat a gourmet meal and only hike 3 miles total. Or the Full Day Adventure could be 6-12 miles. It's your day and your choice, we will do everything we can to cater to you and make this day special! One thing is for sure: lunch on the mesa is going to be a delight and the views cant be beat.
Your guide will give you a one-on-one landscape interpretation of the unique geology, flora, fauna, and archeological in the area, as well as, answer any questions about your llama companion. Our llamas will carry your day hiking gear, water, food and more. Each person will have the chance to lead their own llama companion today.
We will hike with llamas into The Petrified Forest, Red Bluff Canyon, over to the Sulphur Creek Overlook, through flash flood washes, and so much more!
After our hike we will have some time to relax before enjoying a great local dinner in Torrey, a possible soak in the hot tub, and a good night's sleep at Capitol Reef Resort.

Day 2: The Capitol Reef National Park Through Hike
Today you will have the opportunity to get the ultimate hiking experience in one of Utah's 5 national parks, Capitol Reef National Park. As one of the only outfitters permitted to guide in the park this is undoubtably the best way to explore some of the highlights the Park has to offer! Our guides are local experts so not only will you be taking in some amazing scenery but you will learn about the history, flora and fauna, geology, and much more.
We will have two options for this day and what we do will depend on weather, physical ability, and ultimately what you want out of the day!
Option 1: Through hiking also known as a point-to-point hike (no backtracking so every step is new and exciting). This will be a difficult hike that will be 8+ miles long with lots of elevation change. This hike will take us through slot canyons and up through the Water Pocket fold which formed the park 50 million years ago! We will get to see an overlook of the orchards of Fruita and the Fremont River, Cassidy Arch, The Grand Wash, and a few other highlights.
Option 2: This will include two or three slightly less strenuous hikes without sacrificing any of the scenery or natural wonders of Capitol Reef. On our hikes we will get to see the most scenic section of the Water pocket fold including massive white domes of Navajo sandstone, craggy barrier cliffs (reefs), erosion created sandstone monoliths, and Bentonite hills.
Keep your cameras ready, there is a good chance of seeing some native wildlife including Desert Bighorn Sheep and Mule Deer! Today your guide will prepare a tasty picnic lunch, while you eat you will be able to relax and take in views like no restaurant can rival. Make sure to get a lot of photos as this will be a day you won't forget!
After our day of hiking, we will head back to Capitol Reef Resort to get cleaned up and then head into Torrey to satisfy the appetite we worked up with a hearty and delicious dinner.

Day 3: The Western Experience & Horseback Riding
Start your day off with a hearty breakfast and coffee or hot coco at our western wall tents. After that we will head down to the horse corals and help your cowboy or cowgirl guide catch, brush, and saddle the horses that you will be riding for the rest of the morning. This will be a great opportunity to get to know your horse as well! Saddle up and head out for a ride in the mesas and red rock that will make you feel like you are in a scene from your favorite western movie!
After your ride you will eat a delicious lunch and then head back to your room for an hour to get cleaned up or just relax for a bit. For the afternoon we will show you some of the amazing things Capitol Reef National Park has to offer. We will eat some of the world-famous Gifford House pies, go for a scenic drive through the water pocket fold, take a short hike to some ancient petroglyphs, and during harvest season you will be able to pick some fresh fruit in orchards planted by the original Mormon settlers along the Fremont River! There is also a good chance of getting to see some native wildlife including Mule Deer and Desert Bighorn Sheep! During this part of the day you will learn a lot about the park, geology, and the people who used to live there. Its hard to visit the park without learning the deep cultural history.
After our time in the park, we will finish off the day with a fun evening at the horse corals at Capitol Reef Resort. Our guides will prepare a western meal while you sit around a campfire or maybe throw a game of horseshoes or cornhole.

Day 4: The Alpine Lake (Fishing & Kayaking options)
The landscapes of Utah are truly diverse! Today this will be showcased with a 35 min drive where you will leave the red cliffs and the desert and head to 10,000 FT elevation to the alpine lush environment of Boulder Mountain. Our destination is Blind Lake, the largest lake on Boulder Mt. Once we arrive at the trail head, we will have a 1+mile hike through alpine meadows, aspen stands, and pine forests to reach the lake. Today we will not have to worry about carrying our gear to the lake because we will be using our pack llamas to carry everything we will need for this fun day at the lake! Everyone will get to lead and get to know one of these amazing pack animals!
When we arrive at the lake the real fun begins and the options are endless. You will have the option to fish for native trout or take our Alpaca rafts out on the water. Keep in mind when deciding what you want to do at the lake that the fish aren't always biting, however, you can always explore that lake on a raft and maybe even swim if you want to brave the refreshing (cool) clear water. If you didn't get your fill of hiking on the way to the lake we can hike around the lake or to nearby Pear Lake. Maybe you want to challenge yourself and hike to the top of the Boulder Rim. Your perfect day could also be relaxing with a good book by the lakeside with the cliffs of the Boulder Rim in the background.
After our hike we will drive to Boulder Utah where we will eat at one of southern Utah's finest restaurants. After dinner we will take scenic byway drive back to Capitol Reef Resort where you can continue the water themed day by relaxing in the hot tub or turning in for a good night's rest. This is the end of our trip together. But lets not let that stop us from planning another adventure.
You can exchange any day for the alternate option. Or you can add the alternate day as the 5th day to your trip if you would like.

Alternate Option: Twin Lakes Hike
This day will start with a delicious breakfast in Torrey Utah. From there we will leave to head up Boulder Mountain, with llamas in tow. Yes, that's right, our pack llamas will be carrying our lunch and supplies for the day! Even better everyone who wants to gets to lead and get to know one of these amazing animals!
When we get to the trail head your guides will load the llamas and give you a 15 min llama 101 and then you will hit the trail with your new best trail buddy. We will hike through aspen forests, alpine meadows full of wild flowers, and stands of dense conifers for approximately 3 miles to Deer Creek Lake where we will stop for a picnic lunch catered by your guide.
You will have beautiful views of the lake with the cliffs of the Boulder Mountain Rim in the background! After lunch we will hike around Deer Creek Lake to see Green Lake. This is a pristine lake right at the base of the Boulder Rim. This lake is crystal clear and you will be able to see native Cutthroat trout patrolling the edges for their next meal. Once we are done exploring the lakes, we will make our way back to the trailhead. Taking time to take in the scenery and get some photos on the way down! By this time, you will have worked up an appetite. Good thing we are going to be a short 20 min drive from one of Utah's food gems, Hells Backbone Grill. We will head to the small town of Boulder for dinner at this world-renowned restaurant before heading back to the Resort to rest up for tomorrow's adventure.